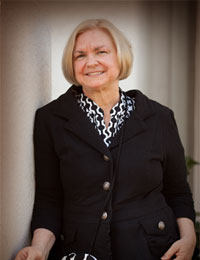 Joyce T Strand Mysteries
Joyce T. Strand writes contemporary and historical who-done-it mysteries that typically involve a murder or two, often a touch of romance, and always a few red herrings.
Jillian Hillcrest, a public relations executive at a Silicon Valley biotechnology company, or Brynn Bancroft, chief financial executive turned winemaker in the Sonoma valley—solve her contemporary mysteries.
Her novel, THE JUDGE'S STORY, is her first historical mystery. Set in a small California town (Ventura) in 1939, the novel features a California Superior Court Judge.
Although fiction, the Jillian Hillcrest and Brynn Bancroft mysteries are inspired by real California cases. She based THE JUDGE'S STORY, also fiction, on the memoir of a California Superior Court Judge (1941). THE REPORTER'S STORY is her second historical mystery and is set in 1912 San Francisco with a character inspired by a front-page reporter of the time.
Be sure to check out Joyce's Blog: Strand's Simply Tips
---
Author Interview
Author Interview: Books & Benches (OVERCAST SUNSET)
Interview: Fossend Publishing (OVERCAST SUNSET)
Guest Post: "Historical Setting Heightens Mystery" (THE REPORTER'S STORY) Celticlady's Reviews
Author Spotlight: A Literary Vacation (THE REPORTER'S STORY)
Interview: Lisa Hazleton's Reviews and Interviews (THE REPORTER'S STORY)
Guest Post: "Who Drives the Plot: Criminal versus Sleuth" Must Read Mysteries (THE REPORTER'S STORY)
Guest Post: "Mystery Exploits the Past" Lori's Reading Corner (THE REPORTER'S STORY)
Author Spotlight: Teddy Rose Book Reviews Plus More (THE REPORTER'S STORY)
Interview: Moon Dust and Madness (THE REPORTER'S STORY)
Guest Post: "The Mystery of Themes" Storey Book Reviews (THE REPORTER'S STORY)
Interview: MorgEn Bailey's Creative Writing Blog (THE REPORTER'S STORY)
Author Spotlight: Silver's Reviews (THE REPORTER'S STORY)
Guest Post:  "The 'Where and When' of a Whodunit" (LANDSCAPE FOR MURDER) A Literary Vacation
Guest Post: "Highlighting Hisses for Villains" (LANDSCAPE FOR MURDER) Lori's Reading Corner
Guest Post: "Conceiving a Whodunit: Inspired by the News and the Mundane" (LANDSCAPE FOR MURDER) Silver's Reviews
Spotlight: "Excerpt and Giveaway: LANDSCAPE FOR MURDER by Joyce T. Strand", The Teddy Rose Book Review Plus More
Guest Post: "The Ominous Ordinary: Creating Tension in Commonplace Setting" (LANDSCAPE FOR MURDER) Storybook Reviews
Guest Post: "How Long Does it Take to Write a Whodunit?" (LANDSCAPE FOR MURDER) Deal Sharing Aunt
Guest Post: "Sustaining Suspense in a Whodunit Mystery" (LANDSCAPE FOR MURDER) MorgEn Bailey's Writing Blog
Guest Post: "A Day in the Life of a Mystery Author" (LANDSCAPE FOR MUDER) – CelticLady's Reviews
Interview: Joyce T Strand: Author of The Judge's Story – Community Bookstop
Guest Post: "What Comes First in a Mystery: Character or Plot?" -SSteinWriting
Guest Post: "A Mystery with a Hero-Judge"-Bookish Indulgences with Book Reviews
Guest Post: "About the Reason for the Book: Inspiration or Opportunity?" Silver's Reviews
Guest Post: "Mystery in History" Part 2: MorgEn Bailey's Writing Blog
Author Spotlight: Teddy Rose Book Reviews Plus More
Guest Post: "Mystery, History, and Credibility" Must Read Mysteries
Guest Post: "From Real to Fictional-Real Person" A Literary Vacation
Guest post: "History in Mystery" part 1 – MorgEn Bailey's Writing Blog
Interview: by Sylvia Stein Ssteinwriting
Interview: Hilltops, Sunsets and Mystery by Sheila Deeth blog
Interview: by Belinda Witzenhausen
Interview: Martha Emms Cognitive Dreamer
Guest Post: Writing to Entertain: The Message in the Mystery – I Am A Reader
Guest Post: Villains: We Don't Hate to Love Them – Bookingly Yours
Author Spotlight/Guest Post – MorgEn Bailey's Writing Blog