Joyce T. Strand
Fact Sheet
About the Books
Inspired by the memoir of a California Superior Court Judge*
A Superior Court Judge with a passion for social justice as well as the law strives to discover the truth behind the mystery of a robbery-murder in a small California town in 1939.
When the Judge hears testimony against a 14-year-old teenager, he realizes that the boy participated in a robbery-murder. However, the accused did not actually pull the trigger. But unless the boy identifies his partner, the Judge must sentence him as a murderer, which would result in prolonged jail time. The Judge's investigator, along with the precocious 16-year-old girl who identified the boy as one of the thieves, explore different approaches to uncover the murderer. In the backdrop of escalating war in Europe, the financial scarcities of the Great Depression, and the Judge's caseload, their attempts to find justice for the accused boy and unmask the killer lure the Judge and his friends into sordid criminal activities.
*Louis C. Drapeau, Senior; Autobiography of a Country Lawyer; available at the Museum of Ventura County/Library, 100 E. Main St., Ventura, CA 93001.
Inspired by an FBI case involving embezzlement by a corporate executive and a subsequent murder of the boss of the embezzler.
A mystery set in wine country pitting financial exec Brynn Bancroft against a determined stalker, a troubled love interest, and career clashes.
Brynn Bancroft learns that a former employee who beat her nearly to death has returned to stalk her and her friend, Jillian Hillcrest, also a former victim. Recently divorced, Brynn turns to a new love interest only to encounter additional unwelcome issues. Meanwhile, short-timer Brynn, who has resigned from her Silicon Valley company, becomes bored fulfilling her remaining responsibilities there. She begins to prefer supporting the launch of her ex-husband's new hilltop winery while waiting to move to her next position. Between her stalker and her new love interest, Brynn faces a series of life-changing events.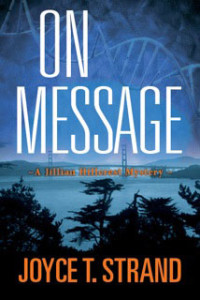 Inspired by a murder of a retired biotech executive in La Jolla, Calif.
Murder intrudes on Jillian Hillcrest's routine as head communications executive at a small Silicon Valley biotechnology company. She is eagerly staying "on message" to inform investors, the media and the community about her company, Harmonia Therapeutics, and its latest drug candidate being tested as a therapy for lupus.
The arrival of a strange package initiates a series of unusual events followed by a call from a homicide inspector and highlighted by murder. The determined San Francisco police inspector involves Jillian in the investigation, convinced she is key to solving the crime. She co-operates fully only to discover that solving a murder is more hazardous than writing press releases.
Inspired by a case in the San Francisco Bay Area of a network of retired and current police officers.
PR Executive Jillian HIllcrest is having lunch with a reporter colleague when a woman enters and begs him not to print anything she's told him because they will kill her if he does. A few days later, the reporter tells Jillian that the woman was killed in a car crash in his hometown. The police ruled her death an accident caused by driving under the influence of alcohol, although she had not had a drink in more than three years.
Although Jillian is busy promoting her Silicon Valley biotech company, the reporter draws her into an investigation of his hometown's police department, located in California north of the Napa-Sonoma wine region. Coincidentally, Jillian's neighbor Cynthia Anderson wonders about the untimely death of her policeman husband 20 years earlier as part of the same police department with the same police officers. Meanwhile, Jillian's ex-husband hovers over her to reverse the "ex" status. Unfortunately, none of them anticipates the frightening events that follow.
Inspired by a networking expert firm in the San Francisco Bay Area involved with a large hedge fund that exploited insider trading through a nation-wide network.
Jillian and ex-husband Chad are enjoying a play at a local community theater when a scream interrupts the production upon discovery of a bludgeoned volunteer. When it turns out that the victim is someone Jillian interviewed for a job at her company, she becomes involved in another crime, drawn ever deeper by a second murder, an irate investor, the participation of law enforcement amateurs, an increasingly unreliable assistant, and suspicious trading of her company's stock. Meanwhile, Chad is pressuring Jillian to say "yes" to a second marriage.
About the Author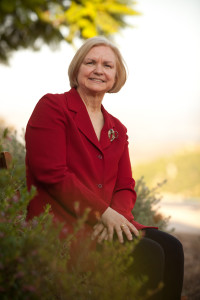 Joyce T. Strand is the author of the Jillian Hillcrest Mysteries, ON MESSAGE, OPEN MEETINGS, and FAIR DISCLOSURE; the Brynn Bancroft Mystery HILLTOP SUNSET; and a new historical mystery, THE JUDGE'S STORY. Much like Jillian, Joyce headed corporate communications at several biotech and high-tech companies in California's Silicon Valley for more than 25 years. Unlike Jillian, however, she did not encounter murder in her career. She focused on writing by-lined articles, press releases, white papers, and brochures to publicize her companies.
Joyce has been a mystery fan since she read her first Nancy Drew and Hardy Boy stories as a teenager. She has always enjoyed the challenge of following clues to solve a mystery before it is revealed. Therefore Joyce relished the transition from writing press releases to writing fiction.
Today she writes and publishes a blog (http://strandssimplytips.blogspot.com), contributes articles to a regional wine magazine, and continues to pen mysteries. She lives with her two cats and her collection of cow statuary in Southern California near San Diego. She enjoys seeing Broadway musicals, eating at gourmet restaurants, and tasting fine wine—in addition to reading mysteries, of course.
Joyce received her Ph.D. from The George Washington University, Washington, D.C. specializing in international relations and her B.A. from Dickinson College, Carlisle, PA specializing in political science.
Annotation Information
Title: The Judge's Story
Author: Joyce T. Strand
ISBN print: 978-0-9961454-0-4
ISBN e-book: 978-0-9961454-1-1
Price print: $7.99 at Amazon.com
Price e-book: $3.99 Amazon.com and BarnesandNoble.com
Pages: 274
Trim: 6 x 9
Format: paperback and e-book
Distributor: Amazon and Barnes and Noble Nook
Publisher: McCloughan and Schmeltz
Title: Hilltop Sunset
Author: Joyce T. Strand
ISBN print: 978-0-9839262-9-0
ISBN e-book: 978-0-9839262-8-3
Price print: $7.99 at Amazon.com
Price e-book: $3.99 Amazon.com and BarnesandNoble.com
Pages: 299
Trim: 6 x 9
Format: paperback and e-book
Distributor: Amazon and Barnes and Noble Nook
Publisher: McCloughan and Schmeltz
Title: Fair Disclosure
Author: Joyce T. Strand
ISBN print: 978-0-9839262-7-6
ISBN e-book: 978-0-9839262-6-9
Price print: $7.99 at Amazon.com
Price e-book: $3.99 Amazon.com and BarnesandNoble.com
Pages: 313
Trim: 6 x 9
Format: paperback and e-book
Distributor: Amazon and Barnes and Noble Nook
Publisher: McCloughan and Schmelts
Title: Open Meetings
Author: Joyce T.Strand
ISBN print: 978-­0-­9839262-­2-­1
ISBN ebook: 978-­0-­9839262-­4-­5
ASIN: B008N04ZD2
Pub Date: July 2012
Price print: $7.99
Price ebook: $3.99
Category: Fiction Mystery
Pages: 307
Trim: 6 x 9
Format: Paperback and ebook
Distributor: Amazon and Barnes and Noble Nook
Publisher: McCloughan and Schmeltz
Title: On Message
Author: Joyce T. Strand
ISBN print: 978-­0-­9839262-­0-­7
ISBN ebook: 978-­0-­9839262-­3-­8
ASIN: B007ZU2CV8
Pub Date: May 2012
Price print: $6.99
Price ebook:$3.99
Category: Fiction Mystery
Pages: 299
Trim: 6 x 9
Format: Paperback and ebook
Distributor: Amazon and Barnes and Noble Nook
Publisher: McCloughan and Schmeltz
Contact: Joyce T. Strand
joycetstrand50@gmail.com